Since discovering that our home was a former hoarder home, one of our biggest priorities is getting each room to feel clean. Our hall bathroom has been the worst room by far, and since we don't have the budget for any big renovations right now, I was looking for a quick, easy, and cheap solution to help our bathroom floors look and feel better. I ordered two sets of WallPop Peel and Stick Floor Tiles to try!
After seeing so many good reviews for these, I was hesitantly excited. Normally I would never consider a faux, temporary solution like this in my home. The more real materials you can use in your home, the better! I've seen the power of how textiles and materials can create a feeling of charm, elegance, and character in a home. But it's desperate times over here.
The Tile Installation of My Nightmares
The existing tile in here is nice, but the installation is all wrong. The grout lines are huge and mismatched, and the tile pattern is all over the place. As someone who loves to tile and cares about details like this, this room is hard for me to be in. Our home was very dirty when we moved in, and after finding out this was a former hoarder home and sat empty for a year, I scrubbed this tile with bleach. But the grout is still stained.
Enter: Wallpop Peel and Stick floor tiles.
I ordered two options, one for each bathroom. Our white hex tile in our Texas house's primary bathroom was one of my favorite features, and one of the most missed by me. When I saw this hex tile print I added it to cart immediately because I wanted to think about our old bathroom every day.
For our hall bathroom, I picked a black and white modern style that I was curious to try.
Shipping was quick, although I never received a tracking code to follow up on my order. Once they arrived, I opened the boxes and pulled out the tiles to see what they looked like.
First Impressions
The first thing I noticed was the finish was wearing off on several of them.
I was disappointed by the quality, for sure. But I decided there were enough good tiles that I could just hide the damaged parts where they wouldn't be seen.
Ease Of Installation
I estimated it would take about 40 minutes to install. Couldn't be that hard, right? After all, I've tiled a shower and two bathroom floors by myself. This should be easy.
My gosh, I was wrong.
These peel and stick tiles took me FOUR hours to install, start to finish!
These tiles were not easy to cut. Especially for curved angles like around the toilet. Maybe it was the tool I was using, but the tiles were difficult to cut into any shape besides a straight line.
When installing real tile, you remove items like the toilet and vanity so you can install the flooring underneath them. But with peel and stick floor tile, you have to very precisely cut around those.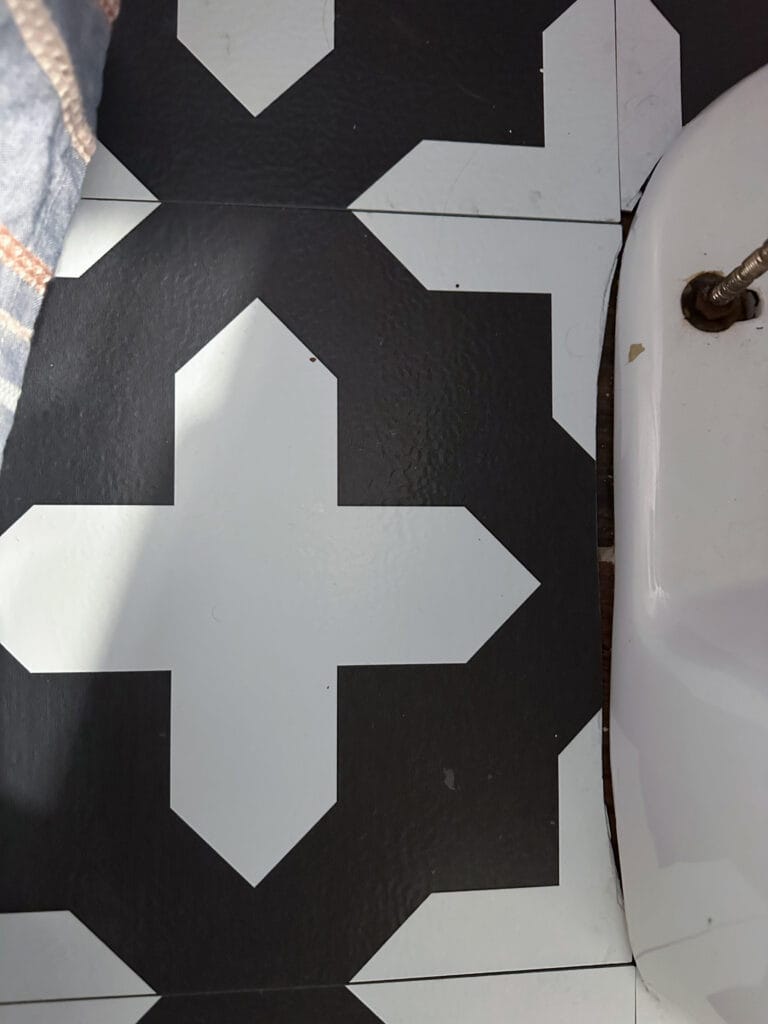 The paper backing made it difficult when I had to remake cuts to get measurements right. The paper peeled off, leaving the adhesive exposed and therefore less sticky when installed.
As continued to install this tile, I watched in real time as the tiles got even more scuffed up from the process. Already on day 1, they look worn and permanently scuffed.
Needless to say, I was not impressed. I feel duped because I've seen so many others recommend these. My expectations were higher.
But before you toss these out completely…
Despite all this, there are a few things I like about them.
The tiles are also thicker than I expected. I used them over tile that still had grooved grout lines and are different shapes then the peel & stick floor tiles. I honestly can't tell where the grout lines beneath it are. The flooring feels even.
If you're like us and just need a quick transformation in a space with poor flooring already, these might be a good option. But just know going into it, they look cheap, feel cheap, and are very temporary.
I can't in good faith recommend them. But to each their own!
Peel & Stick Floor Tile FAQ
Does Wallpop Peel and Stick Floor Tile look cheap?
Absolutely. They looked worn immediately out of the box, and by the time they were installed, they were even more marked up. They look like linoleum flooring, but cut into squares.
Half-way through installation I discovered that the patterns were so inconsistent that I wasn't getting a perfectly clean look between the tiles. The tile pattern is poor quality. Even after spending extra time trying to get them to line up, it was impossible to get exact.
The tiles also don't perfectly stick to the floor and the edges are popping up.
Do they feel cheap?
100%. It feels like linoleum flooring. There's a slight texture to it so it has some grip, and it's not too glossy.
How durable are they?
We've only had them installed for about 2 weeks now. I will keep you posted on how long they last! According to their website, they're water resistant and can be installed in a bathroom. But considering the adhesive isn't very strong between the tiles, I'm expecting water spills to affect how well the tile sticks in the future. So far, they seem to get scuffed and scratched easily.
What's the cost to install?
I paid about $45 for 3 boxes of tiles. 30 tiles total for this small space. I used almost all of them because I made so many mistakes and had to redo some. You can also purchase floor primer on their website for about $17.
How easy are Wallpop peel and stick tiles to install?
I have tiled a shower and two bathroom floors, and these peel & stick tiles were just as difficult, if not more so!
It took me four hours to install 25 tiles in our little bathroom. The finished look was not worth the effort.
Because of the poor design quality, I couldn't get the patterns to line up well. It took me extra time to configure the pattern in the best way. There are no grout lines, so the measurements and cuts need to be precise or you'll end up seeing the flooring beneath it. Like below.
Cutting the tile itself was difficult with just an x-acto knife or box cutter. I am very particular about getting perfectly aligned and cut tiles, but these were so frustrating that I gave up and left lots of mistakes.
If you're installing these in an open space where you won't need many special cuts, this will be easier for you.
Honest Review of Wallpop Peel and Stick Floor Tiles
Unfortunately, I would not recommend these to anyone. And I really wanted to like these! They look deceivingly cute online. But up close, they feel cheap, look cheap, and won't last. Maybe I just had the wrong expectation.
I'm more convinced than ever that it's worth waiting to invest in real, quality materials for your home.
Have you used these before? Did you have a better experience? I need to know if it's just me!