We make a big deal out of decorating for Halloween as a family! We put on spooky music, make popcorn, and everyone helps find a place for our pumpkins, bats, skeletons, garlands, and candles. Now that we've reached *barely* cooler temps here in TX, I'm starting to look for what decor pieces to add to my Halloween decor collection, and I am ALL IN! Come Oct 1st, we will be knee-deep in pumpkins, ghosts, and all things spooky. Well, appropriately spooky for my toddlers, ya know.
Every season I allocate a portion of our home budget to get a few new seasonal decor items. That way, we can grow our decor collection each year without spending over our normal monthly budget.
I rounded up a few Halloween/Fall Amazon finds to help you fill your home this season on any budget!
Easy, "No Styling" Ways to Decorate For Halloween
Switching out your couch pillows each season is a cheap, simple way to incorporate seasonal decor into your home. The best part is, there's absolutely no styling involved. Just set them in the corners on each side of your couch, and you're done. Boom.
I try to have one patterned + one solid pillow in the corners of my couches. Use one large pillow in the back, and layer one medium/smaller one in front of it.
I loved these printed Hocus Pocus pillows. Amazon has lots of options to choose from!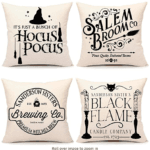 If you need pillow inserts, this one from WovenNook is my favorite!
Invest in statement decor that you can reuse every year. This year I may level-up the paper bat trend with these MAGNETIC bats you can add to your garage! How cool is this?! You could create a serious spooky-factor with these. They're made of PVC so they can be indoor or outdoor. You can group them in one corner of your garage and it will never fail to look good.
Candles, candles, candles. I'm thinking about making the switch to flameless candles, but there's just something so cozy about an open, real flame. However… last night I accidentally left a candle lit on our fireplace mantel, and it burned all night long. (It had plenty of wax and nothing happened, thankfully!). But I had a massive headache all day long the next day, and I'm wondering if it's finally time to ditch them. Have you done this?
If flameless candles are your thing, I found these two options and couldn't pass them up. I've never found them in glass jars like this before, so cute!
You can never go wrong with candles for Halloween. They were made for each other.
Get your kids in on it. My kids LOVE having decor of their own, especially holiday decor. If you don't trust them to have anything breakable in their room, give them a decoration to be in charge of somewhere else in the house. For example, add a fun neon light like this to your tv stand and let them be in charge of turning it on and off.
We let our kids be in charge of turning on the lights for the Christmas tree every morning. I swear, it helps them be continually in the holiday spirit.
Swap your outdoor rugs. Bring out all the plaid patterns and fall rugs! Blacks, whites, and earthy-toned colors and patterns galore. I love finding alternative trends, and when I saw this black and white patterned outdoor rug that is just a step away from the traditional buffalo check pattern, I loved it and had to share it with you. Use a larger size like a 3×5′ if you have room outside your front door, and add another 2×3 doormat rug on top of it.
Layers like this add dimension and depth!
Look for unique pieces you love. This detailed floral 8″ skull looks like a heavy, high-end piece! Set it on a stack of books or on a desk top. Isn't it creepy and beautiful at the same time? I love it.
Go spooky or friendly, or a mix of both. Since I'm not quite ready to explain what skeletons are to my 3 year old, in this season of life we do a mix of spooky/fall decor. If scary's not your style, lean into friendly ghosts, and all things fall instead!
You can make your home beautiful on any budget. Every Halloween and Christmas season, I try to set aside $100 or less to add to our seasonal decor collection. I used to dream of having every nook and cranny filled with Christmas, Fall, or Spring decor like I saw on Pinterest or in magazines. But the reality is, filling every inch of your home each season is very, very expensive and just not realistic for our, personal budget thus far. So instead, I'm slowly building a collection that will work for us in any home.
Amazon is a great place to find quality, high-end style decor on a small budget.
Halloween is my family's favorite holiday of the year. Now is the time when I start looking for items to decorate with, so that on Oct 1st we can make a big deal out of setting it all up as a family. We love doing it together.
If you could only pick two of these items to add to your decor this year, what would you pick?!
*This post contains affiliate links. If you find something you love and purchase it using a link I share here, I make a commission from that purchase. This is one way to support me as I share more interior design tips, ideas, and resources here.