The house is packed. We've squeezed in last playdates, friend date nights, and favorite restaurants. Texas has been home for 7 years. We raised our babies here and made the very best friends. This little, ordinary home has been good to us. Today I'm doing one last tour before we go!
Final Home Tour
Entryway
Shop The Room: Wooden Coat Pegs / Door Wreath (Similar)
When I couldn't convince my husband Nathan to paint our board and batten pink, I painted the door instead. Our entryway is always full of backpacks, butterfly costumes, and tiny kid purses.
Living Room
Shop The Room: Pink Blanket / Leather Pillow / Basket (similar) / Coffee Table / Framed Tapestry Art / Tripod Gold Lamp
From a moody black accent wall to a bright room with a green fireplace. This room always gets lots of natural light. Our fireplace made for cozy winters too.
Dining Room
Shop The Room: Billy-Oxberg Ikea Cabinets / Square Canvas Similar / Rattan Pendant / MCM Chairs Similar
Creating a home you love takes time, and this space was in the beginning phase of getting all the love and attention it deserves. But I love how we made it work for us in the meantime and on a small budget.
Kitchen
Shop The Room: Shaker Chairs / White Tulip Table Similar / Mini Vase Similar / Curtains / Leather and Gold Curtain Rod / Rattan Pendant / Plant Basket Similar / Matte Black Electric Kettle
Gah, the plans I had for this kitchen kept me awake at night! Earthy blue cabinets, butcher block counters, tall cabinets. My favorite part about this room is the bright morning light. It makes having a cup of tea at our breakfast table the best start to the day.
Primary Bedroom
Shop The Room: Fluted Desk / Vase / Lamps Similar / Salt Rock Lamp / Blooming Duvet Cover / Hats / Art Print / Nightstands / Curtains / Gold and Leather Curtain Rod
Who ever thought we'd do such a dark paint in here? Not me. The unexpected amount of color drama in this primary suite has made for such a fun year. I've never shied away from paint colors, and I can't wait to try some new ideas in our next home too.
Pink Room
Shop The Room: Ceiling Fan / Twin Comforter Similar / Play Kitchen
When my oldest was born we swore we wouldn't force "girlie" colors into our home. It turns out my kids just freaking love pink. Me too! Our pink scalloped room was an easy way to incorporate their favorite color in a modern and fun way.
Rainbow Room
Shop The Room: Ceiling Fan / Wood and Rattan Desk / Queen Comforter / Desk Lamp Similar
We'll always remember our girls' first big girl room–with a rainbow paint mural! I still remember the day we got the keys to this house. We picked up lunch and ate in the middle of this room. We dreamed about all the projects we'd do to make this home our own.
Hall Bathroom
Shop The Room: MCM Globe Light / Vintage Style Mirror / Gold Faucet / Wood & Cane Vanity / TP Holder / Vintage Style Art / Towel Hooks / Green Bath Towels / Floor Tile
This was our last DIY renovation project here. A room flip filled with character right before we listed our house. This project was a good reminder that we can finish a project quickly if we actually have a plan.. and a schedule. Which is not at all how we approached our primary bathroom renovation.
Primary Bathroom
Shop The Room: Coastal Art Print / Pink Towels / Vanity Hardware – Knobs / Vanity Hardware – Handles / TP Holder / Towel Hooks / Bath Mat Similar / See More Here
This room was almost blue instead of green. Between a hundred thousand paint samples, I picked this dark green and never looked back! Blood, sweat, and tears–and many late nights and weekends– transformed this room from a sad, old bathroom into this modern look. The shiplap ceiling to cover up the popcorn texture was the icing on the cake in this room. My favorite part will always be the hex tile floor, though.
Goodbye, Texas!
I'll be sharing pictures of our next home in the next few weeks! We'll be transitioning to fixing up a forever home instead of a "for now" home. Which means even bigger and better projects ahead. We'll miss the tacos and the people here in Texas. Our little, ordinary home you see here has been a fun project to test out ideas, and learn how to DIY well. I'm so looking forward to more in our next home.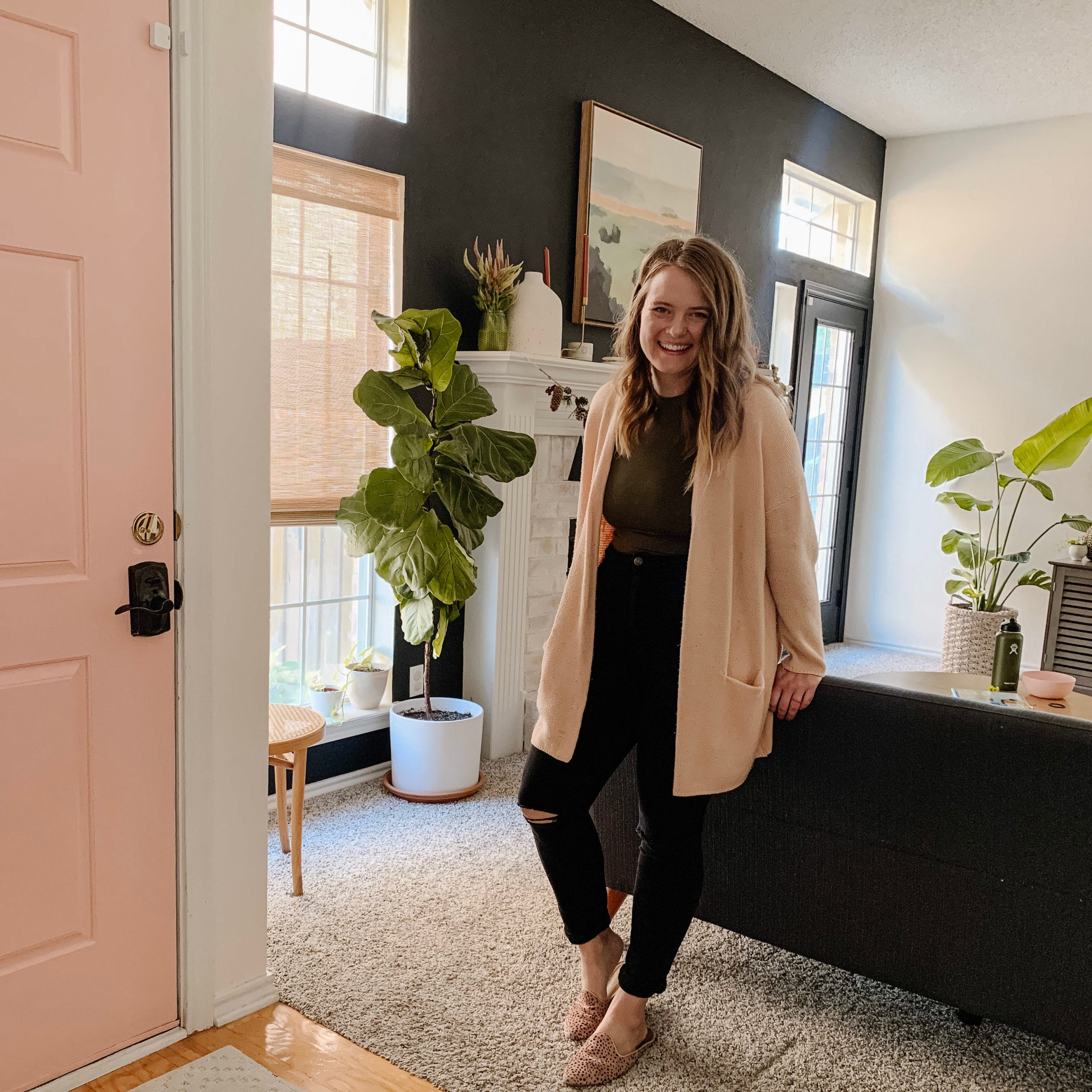 P.S. Which room will you miss the most?!