51 Ideas For DIY Tool Essentials, Interior Design Resources, Home Decor, Plant Accessories and more!
The Hill Home Love Gift Guide is here! I freaking love gifts (you're not surprised). These are items I already own and love. Or ones that I'm eyeing for a loved one! I hope this gift guide is helpful for you as you live generously this holiday season.
For The Plant Person
You know the one. They can't stop collecting plants and all the goodies that go with them. Contribute to their green thumb life with a few of these favs.
Coffee Table Design Books
No thumb scrolling here. There's something magical about letting yourself slowly take in a room and studying a well-designed space. There are so many design books I love (I'll have to do a round up of those!), but these are few that consistently leave me feeling inspired.
For The DIY'er
Any DIY'er knows – the best gifts are PROJECTS! Tools and gift cards to get it done. Besides lending a hand, here just a few staple tools every DIY'er needs.
Brad Nail Gun – $149 – I use this for installing trim and wall treatments.
Saker Multi-Function Foldable, Multi-Angle Level, 28-Inch – $39 – how cool is this!
Stylish Safety Glasses – $13 – various colors
Multi-Tool – $86 – for cutting hard-to-reach or awkward pieces
Jig Saw – $44 – for those hard-to-get, custom cuts
Cordless Drill with Battery + Charger – $74 – the most basic tool everyone needs.
Ryobi 7 1/4 Sliding Mitre Saw – $279 – We use this one, and I love this one because you can slide the blade for even wide cuts.
Laser Level – $49 – Make sure that shiplap, picture frame moulding, cabinets, etc are exactly level or deal with crooked regrets forever.
Portable Wet Tile Saw – $165 – We used this basic tile for our primary bathroom shower renovation! It's not super fancy, but it gets the job done at a budget-friendly price.
Gift Cards – Contribute to their projects, whatever they need. Become their BFF, even more.
For Your Coffee Friend
Take your time and make good coffee. This is one of my favorite morning rhythms, even though I've given up black coffee… for now. I'd recommend these to any new or seasoned coffee person!
For Your Kids
National Parks Art + Kid's Passport Notebooks from letterfolk.com!
These passport notebooks are perfect for your kid who likes to collect or journal. They have ones for books, national parks, hikes, drawing, games, and more. They also have ones for grownups, who are still a kid are heart. I have one for Books, and it made my year to add to it every month.
The Cutest Puzzles You've Ever Seen
I buy a new puzzle every holiday season. Last year we lost a single puzzle piece from THREE of our new puzzles, because… kids. I cannot emphasize enough how insane it makes me feel, ha! I'm just walking around every day feeling incomplete inside.
I'll never give up my puzzle quest but maybe you'll have more luck than me with actually finishing them! I love this puzzle brand, they make the cutest designs. I bought one from them last year.
For Your Auto-Immune Life Friend
When you have an auto-immune disease (like me!), you cook a lot. One of the best ways you can support a loved one or a friend navigating a health journey is to support them in the kitchen or help them be re-inspired with healthy food. These are all items I use and love (or have on my personal "still-need" list).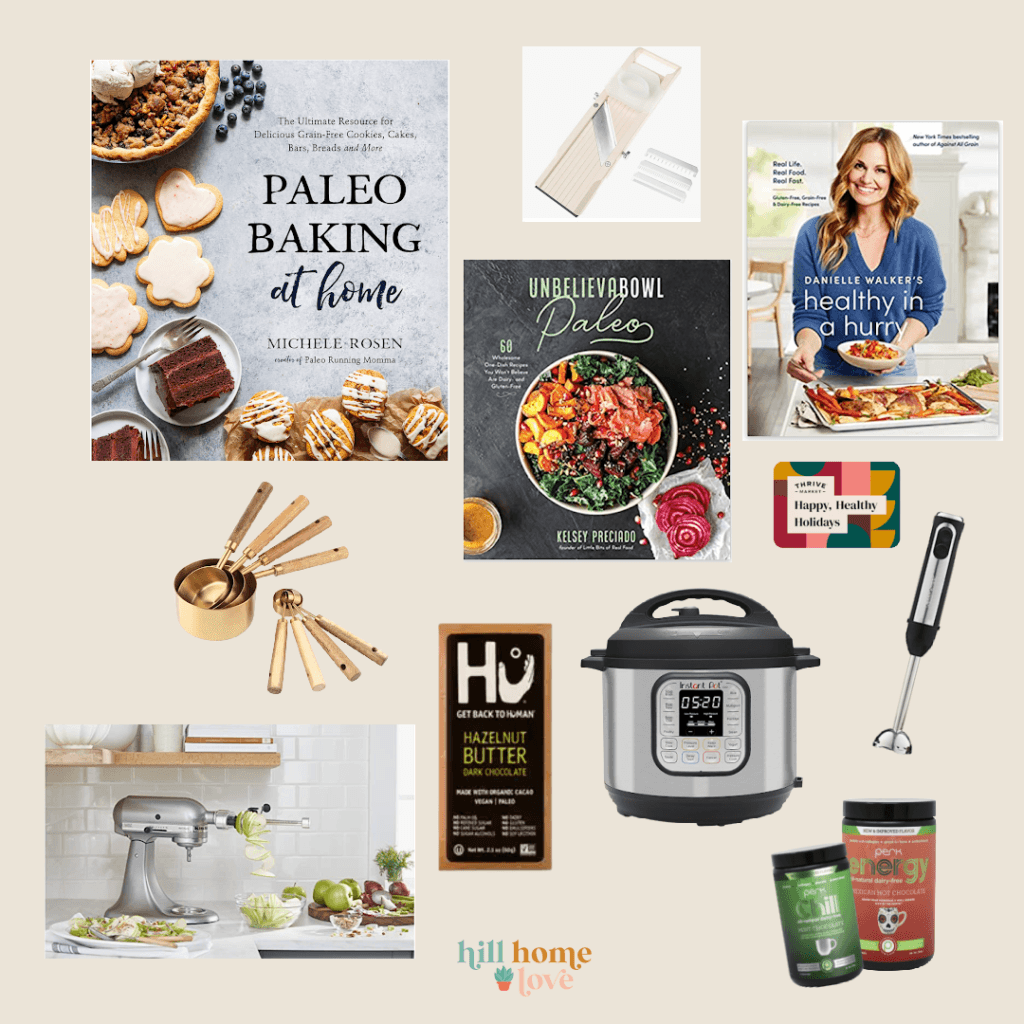 Paleo Cookbooks I Love
Mandolin Slicer – $47 – makes slicing those veggies so much easier
Stainless Steel Gold + Wooden Measuring Cups + Spoons – $28 – for liquid and dry measurements
Thrive Market Gift Card – I purchased a Thrive membership a year ago and it's been a good resource for Paleo-approved foods. They also have lots of yummy food for Keto, Gluten Free, or other special diets! Get 40% off your first order with this link.
Spiralizer – $74 – for those zoodles everyone "loves"
Hu chocolate (Paleo Approved!) – I find this in my local grocery store or at Target.
Instapot – $80 – we don't own one of these yet, but I know it would make our life so much easier, ha.
Immersion Blender – $29 – for your morning bulletproof coffee or PERK energy drink mixes!
Perk Energy Drink Mixes – I LOVE these drink mixes. I've been using these for over a year now and recommend them to evvveeerrryyyone. They taste so yummy and are basically like a dessert. Paleo/Keto friendly. Every drink has collagen protein, no artificial sweeteners, and it supports your metabalism and energy levels with antioxidants. Their energy line has 100mg caffeine to kick-start your day. Their chill drink mixes are made with a slower-absorbing protein blend for better recovery and include vitamins/minerals like magnesium to help your body relax and sleep well. See all their flavors here (Mexican hot chocolate is my favorite)! Get 10% off your Perk order with this link, or with the code PY-JqzMX.
My Go-To Can't Go Wrong Gift:
Coffee/Tea + a candle! I love buying these from a local shop to support a small business, and it's such a welcoming gift.
I put this together not as a way to convince you spend money or be one more person shouting BUY THIS, LOOK HERE! My heart behind this guide is that it can be a resource for you, as you live generously this Holiday Season.
Let's give good gifts to the people around us this year!
See also…