Before we finish packing up our Texas home, I'm looking back at how much has changed in our 3 years here! We made so many updates–big and small.
We didn't finish all the projects I wanted to. But I'm amazed at the simple power of paint and budget-friendly updates. It transformed our spaces instantly.
I hope it's encouraging to see that an ordinary home can be made special. I still love how much difference there is between the year we bought the house compared to now!
Final Texas Home Tour
Note: Most of these "after" photos were taken right after we had our listing pictures done in April. It looks more pared down and bare than usual! Weird, right?
Living Room
Our living room is open to our entryway, dining room, and the hallway to our bedrooms. Were you here when we still had plantation shutters?! When we moved in there was big, gray accent color around the fireplace and a brown door. This first picture was taken a few months after we moved in. You can see where we started our board-and-batten entryway project already, before we added coat pegs.
After a year, I painted the accent wall Tricorn Black by Sherwin Williams. Accent walls generally aren't my favorite, but it made sense with the large amount of white window trim and the white fireplace mantel. I eventually painted the patio door black to hide it. I found a bamboo woven shade on Facebook Marketplace and took down all the window trim.
Removing the plantation shutters gave us windowsills for plants and made the room brighter. The shutters blocked a lot of sunlight! We never opened them because they swung too wide in this small space. Plus, with the grid detail, the view felt cluttered.
Last year I repainted the black accent wall to match the white color of the other living room walls. To bring more contrast to the fireplace, I painted it an earthy green. I was an easy refresh for this season of life. It feels much lighter and brighter.
I'm not going to lie, looking at photos of this black wall makes me want to repaint it back to black–if we were staying. The best thing about paint is it's so easy to change later! In fact, I've used 18 different paint colors in our Texas home!
DIY Updates
– Repainted all walls
– Repainted fireplace mantel
– Repainted patio door (interior & exterior) and trim
– Replaced weatherstipping and seals on patio door
– Updated window treatment (new pull-down shade)
Dining Room
This dining room sits behind our living room. It's the first space you see when you walk in the front door! Our tall ceilings make this small area feel open and bright. We actually didn't use this dining table for the first few years we lived here. Partly because of the carpeting–we have little kids and I didn't want to clean ketchup stains and goldfish out of the carpet every day. To make more room to play, we placed the table against the wall. It wasn't the most inviting space.
We spent hours talking through design solutions. Our house lacks good storage space, so we wanted to add some here with built-in bookcases and storage cabinets to the sides, and a built-in bench in between for extra seating.
Last year we got two IKEA cabinets in the hopes of starting that DIY project soon. We ran out of time, but I love how it looked. The only cosmetic changes we made in this space were paint and replacing the original light fixture with this pendant light.
The square framed art is what inspired all the paint colors in my small Texas home!
DIY Updates
– Replaced light fixture
– Repainted walls
Kitchen
I was still dreaming of updating our kitchen. Butcher block counters, an earthy blue cabinet color, a white tile backsplash, and an apron sink. I can see it so clearly in my mind! Extending the cabinets higher, and replacing the flooring with hardwood. I pictured a built-in banquet table area in the back corner.
This kitchen corner was our main eating area for almost 2 years. The morning light through these big windows is so crisp and beautiful. Our family of four fit perfectly at this tulip table.
The main update we made in this kitchen was repainting the walls to be less yellow. I repainted and replaced some trim that was beat-up too. We also replaced the fan above the table with a woven pendant light, and the track light with a mint flush mount light. I took down one set of plantation shutters to make it easier to open a few windows. I added these curtains with a gold curtain rod.
I'm sure the next owner will make this space their own.
DIY Updates
– Updated light fixtures
– Repainted interior door to garage and replaced door handle
– Replaced plantation shutters with curtains
– Wall-mounted magnetic knife storage
– Repainted all walls and trim
– Replaced floor trim
Rainbow Bedroom
Our girls shared this room when we first moved in. My oldest had a loft bed while my youngest still slept in a crib. We eventually separated them once my husband went back to working at an office during the pandemic. I painted their room a creamy white and added a big rainbow, because why not! Listen, seeing your kid sleep under a rainbow is priceless. Especially when it's all their favorite colors in their new, big kid room. It was an easy weekend project.
DIY Updates
– Replaced window shades with room darkening cellular pull-down shades
– Replaced fan/light fixture
– Repainted all walls
– Added pink shelves in closet for toys and clothes
– Painted
Rainbow Mural
Pink Bedroom
This room was an office, guest room, and catch-all area the first year we lived here. Did you know it was green when we moved in?! The first order of business was painting it a creamy white.
After we transitioned our daughter into this room, I let her pick this deep pink color for a scalloped accent. I used a plastic cereal bowl from our kitchen to trace the scallop shape half-way up the wall. I gave it all two coats of paint for an easy, major design impact.
It goes well with the mint green decorations and toys. Her bedding was a mustard yellow that looked just freaking adorable together. I DIY'd some floating book shelves for extra storage too. I painted them a green color because why not! Eventually we would add yellow curtains around the window and a patterned rug. We updated her fan to match the one in her sister's room next door.
DIY Updates
– Repainted all walls
– Replaced fan
– Installed floating shelves
– Added paint accent
– Replaced window treatments with room-darkening cellular pull-down shades
Primary Bedroom
I don't share this space often. The lighting is a bit funky so pictures tend to yellow. I captured some good lighting just in time to share one final view in this Texas home tour. The ceilings in this room are 12ft tall! We replaced the original fan with a modern matte black one with a shorter extension rod to make it closer to the ceiling. The walls were painted white, and then dark blue. I wanted to add beams and a ceiling treatment. Can you picture wall treatments like board and batten or picture frame moulding too? This room is where we keep our desk.. it's not ideal but it's worked for us.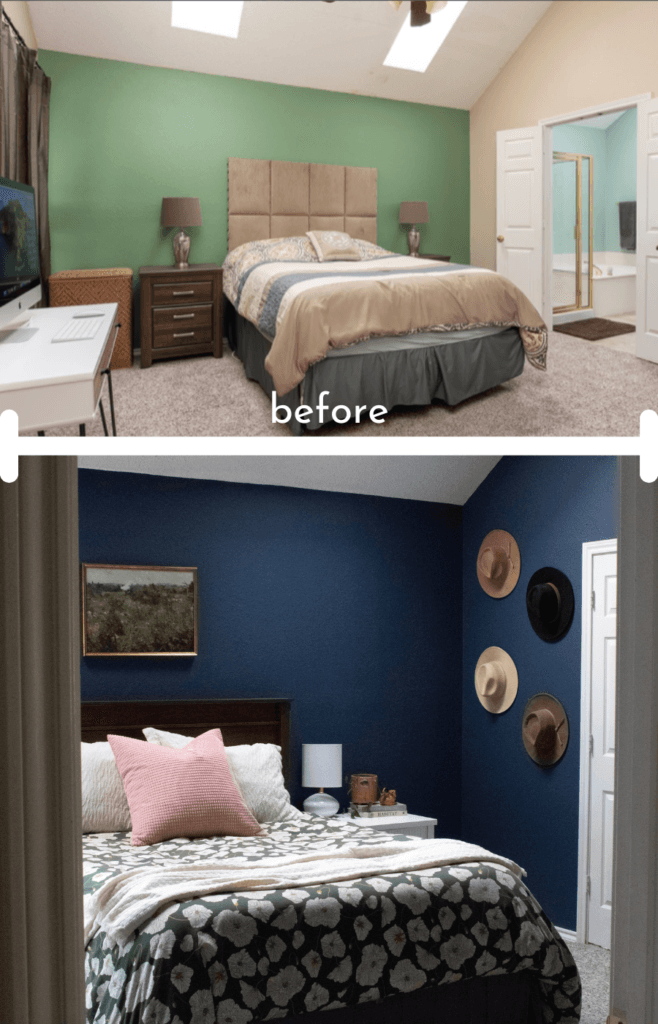 DIY Updates
– Repainted walls
– New fan
– New outlets
Primary Bathroom
Our first (and one of our last) projects! The one that started HillHomeLove and my love for design and DIY's. We found ourselves in the middle of a major renovation a few months after buying this home. Our shower was leaking and tiles were crumbling off the wall. We tore half the room and the floor down to studs. Then, we built it all back together. This is still one of my favorite spaces in the whole house. I'll miss it terribly.
We removed the original alcove tub that was connected to the shower. Nathan built a half-wall to hide the water lines for a new wall-mounted tub faucet. We ordered a small freestanding tub that sits perfectly wall-to-wall.
Our bathroom renovation took us 9 slow months. We took our time with each new step. Watching youtube videos and asking the experts we new, we learned so many new skills. Tiling, drywalling, framing out walls, installing and waterproofing showers, extending water lines, installing shiplap with a nail gun, and more.
Every late night and weekend was so worth it. I'm confident we could make this project go SO much faster next time. I love how it turned out!
I dreamed of an oak wood vanity with a gray veined counter top. We ran out of time to add this feature, and opted for a quick vanity flip before we listed the house.
See the full reveal and get links here.
DIY Updates
– Repainted all walls
– Remodeled shower with new tile, rain shower head, shower shelves, frameless shower glass with matte black hardware
– Replaced original alcove tub with freestanding, new faucet and hardware
– Replaced towel hardware
– Refinished vanity, updated vanity top, updated faucets, replaced vanity mirrors
– Replaced light fixtures with LED's
– Removed popcorn ceiling and added shiplap treatment
– Added Shiplap wall treatment
– New floors (hex tiles)
– New toilet
– Installed floating shelves above toilet
Hall Bath
Cue the tears. Our last DIY ever in this house. I had BIG plans for this room! Half-wall tile that would seamlessly flow into the tub/shower area. Gold shower hardware and a dark grout. Wallpaper on the top half of the walls. I've had it planned for years.
I'm saving all my design plans for our next home, and opted for something more budget-friendly right before we listed our house. It's definitely better than it was before, right?
DIY Updates
– Replaced vanity, sink, faucet
– Replaced vanity mirror
– Replaced vanity light
– Removed wallpaper
– New floor tile
– New toilet
– Removed popcorn ceiling
– New wall & ceiling paint
– New floor and door trim
– New shower curtain
– New bathroom hardware
Entryway
Can you believe what this entryway used to look like?! A blank slate just begging for something fun. I repainted it white initially to make it visually blend in more. We added a board and batten moment to organize all our bags and coats. It was a practical solution and a lovely addition to the entryway. The famous pink door made its debut in 2021.
Which do you like more? The black wall or white wall with the pink door?
DIY Updates
– Installed board and batten entryway
– Peg coat hooks
– Built-in ledge shelf
– Repainted front door (interior and exterior)
– Repainted walls
Front Door Exterior
From the first day we moved in, until now, my favorite feature on the exterior of our Texas home has been this flower box. I see it from my kitchen sink. It brings so much joy in the spring. I updated the exterior paint to a semi-gloss black and added the gold welcome sign.
DIY Updates
– Repainted front door
– Added welcome sign
– Replaced front landscaping with hydrangeas and mulch
Backyard
We originally had a small concrete patio out the back door that led directly into a ditch for drainage under the fence. Nathan and his dad built out a 16″ deck with Trex boards. Big enough for plenty of seating and a small pool for our kids. Late nights with drinks and early mornings with coffee. This has been a sweet spot to be outside and watch our kids play in the grass.
As you can see, the lots in our neighborhood are zero-lots. Meaning our yards directly bump up to the houses next to ours. We try to be good neighbors and take care of this side of their house since they can't immediately access it. A funny quirk of our Texas home!
DIY Updates
– Built floating deck with Trex composite decking
– Added built-in cedar flowerbox
– Installed string-light poles on a timer
– Added outdoor outlet
A Note From Me
Thank you for following along our Texas home journey. I was sad and hesitant to sell our home, but I know our next one will be better for our family. After a few projects of course. I am planning to share a full tour of the new Hill Home after we move in June. I can't wait to show you!! It takes some vision but we'll get there.
One of my goals for our Colorado house is to invest more in the right decor for each space. I tend to be so focused on making updates, that decor falls to the wayside. I'd much rather choose tile for a floor than style a bookshelf or desk. Backwards, right? I'm going to try to prioritize this more in our next home.
Making a home is a process. It takes time. I hope seeing our very ordinary home–and all the big and small updates we've made–is encouraging in your own home journey.