It took me a few years to accept that I love color in my small home. Saturated and earthy hues bring me a lot of joy. Learning how to incorporate color into a 1349sqft space in a way that allows it to feel open, bright, and airy throughout was no small task.
We have 18 different colors in our small home, all intentionally coordinating to create just the right feeling in each space.
Now that we're done painting every.single.wall in our house (for now), I want to share all the paint colors I've used, loved, and regretted in our home!
Paint Colors By Room
Living Room
This view has changed a lot over the years but it's currently my favorite version. When we bought the house, our fireplace wall was originally a blue-gray with a white fireplace surround. All the walls were a yellowy white that I slowly updated over time.
A year after we moved in, I painted the accent wall Tricorn Black by Sherwin Williams. This black has some blue undertones, but it's definitely a warm, dark black. I looooved it! The contrast with the fireplace and windows was beautiful.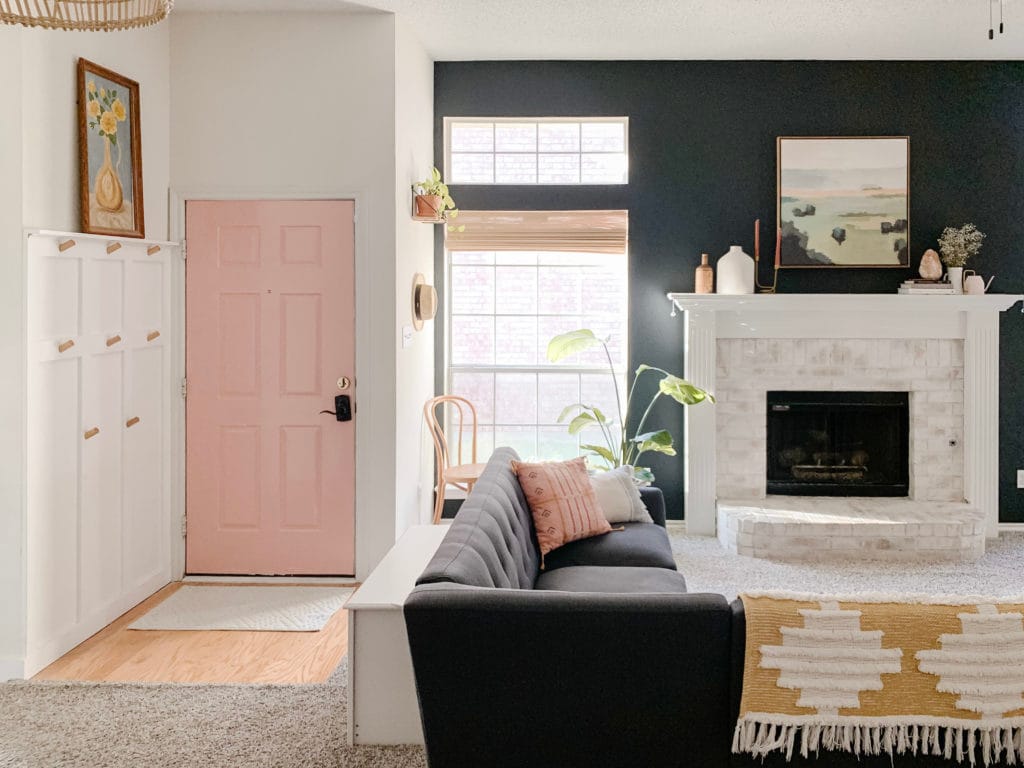 In Fall 2022 I decided I wanted to do something different. The black felt heavy and dark, and I needed something bright and light. I wanted a design that felt more connected to the rest of the house. I painted all the living room walls White Dove by Benjamin Moore.
Let me tell you. This is the perfect, crisp white!!
Double exclamation points for emphasis. Choosing a white paint color made me feel insane. How do you know which one will be good? They all look the same? But also completely different?! I took a chance on a recommendation I found on Pinterest (can't remember from who!) and chose White Dove.
It's not too bright, and just warm enough. I haven't noticed any yellow, pink, or blue tones coming through. It feels modern and and clean. It's my new favorite white paint color.
The fireplace became Evergreen Fog by Sherwin Williams to create some contrast against the white walls. Best. Decision. Ever. It's the perfect gray/blue/green color. It's earthy, fresh, and welcoming. It goes so well with the bamboo woven shade (a Facebook Marketplace find!) and the wood tones of our decor.
Dining, Hallway, and Kitchen
This part of our home is all connected–if you paint one area, you have to paint it all! Once I painted our living room walls, I had to repaint our dining room, hallway, and kitchen too.
I gave them all a refresh with White Dove by Benjamin Moore just like the living room.
We're still waiting on the day we can transform this kitchen, but for now I repainted the yellow-ish walls and gave the trim a fresh coat of paint. There's a chair rail and lots of window trim in here, so I did a slightly contrasting trim color. Edgecomb Gray by Benjamin Moore was the perfect gray/beige neutral color to add a little bit of contrast in here.
It competes a little too much with our outdated gray floors right now, but I love it against our white walls and chairs. I think it would look amazing together with wooden floors. One update at a time, right? I don't share this space often!
Dining, Kitchen & Hallway Paint Colors
Rainbow Bedroom
This DIY rainbow paint mural was one of our first projects in this house. Our previous rental home had yellow, beige, and metallic brown paint. Needless to say, I was so ready to make this house our own.
Like all the other rooms in our home, these walls were a yellowy-white paint color. My first priority was getting the base color right first! I chose a white paint color recommended from a blogger I really trust–Marshmallow by Sherwin Williams.
However, this turned out to be a bad choice for this particular room. I know paint colors can be affected by different lighting. What works for one room or house might not work for the next. This white paint had so much red and blue undertone. It just isn't right for this room!
I wasn't ready to repaint it again right away, so I just left it for another day. It wasn't until a few years later I discovered White Dove by Benjamin Moore. I'll definitely use that next time instead.
Listen, seeing your kid sleep under a rainbow is priceless. Especially when it's all their favorite colors in their new, big kid room. I shared how I made this wall come to life in this post here. It was an easy weekend project.
Rainbow Bedroom Paint colors
Pink Scallop Bedroom
Our second kid had a really tough time as a baby. She was still little when we moved in this house and had colic and chronic ear infections. Our girls shared a room initially, but we eventually moved her into her own room so we could all get better rest. We had to say goodbye to our office and guest room to make it happen, but it's worked great for us so far!
I wanted to make this room more like a kid's room. The walls got painted white first – Marshmallow by Sherwin Williams again. I was not yet aware of how much I didn't like this color!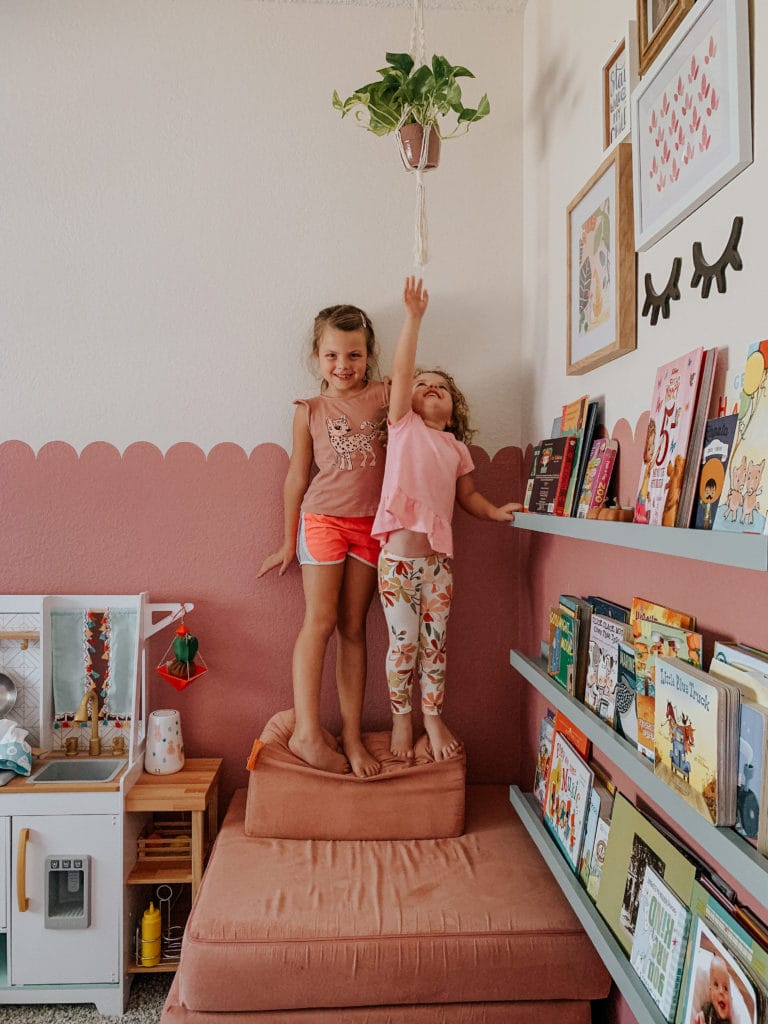 Then I picked out a handful of colors I liked do to a paint accent. I let her choose her favorite since it would be her new room. Even though she was a toddler, she had her opinions and knew what she liked, for sure.
She picked this deep pink called Cherry Juice by Behr. I was in! Using a bowl from our kitchen, I traced the scallop shape half-way up the wall. I gave it all two coats of paint. It was so easy and made such a cute impact. I goes well with the mint green decorations and toys we had. Her bedding was a mustard yellow that looked just freaking adorable together.
I DIY'd some floating book shelves for extra storage too. I painted them Garden Vista by Behr, because why not! It's a blue-green color that looks so good next to this pink.
Pink Scallop Edge Room Paint Colors
Primary Bedroom
Don't ask me why, but some spaces are just a challenge. This room has tested my patience! Our skylights make the room very bright in the morning, and casts a slightly yellow tint to everything. When we first moved in, I painted the previously green walls to a white paint to hit reset.
I sat with it for a while, and then we chose a dark paint color to make it feel more relaxing in here at night. It also hides the yellow light from the skylights too, win win! I found this paint color online and gave it a try. This is Newburyport Blue by Benjamin Moore.
It's a very rich blue, more " true blue" than a navy to me. This color is part of Benjamin Moore's Historical color collection. I try to balance out dramatic spaces with some neutral colors. But this room is just all drama. Patterns and dark hues all around. I love blues, greens, oranges, and dark wood tones together.
I've never used a color like this before, and it's been a fun change this year. I think I may repaint again soon because I get bored and like to try new things. Paint is an easy change with a dramatic impact.
Primary Bedroom Paint Color
Primary Bathroom
The green of my dreams that started it all for me. I spent hours pouring over which green I wanted in our bathroom. Earthy, bold, light, or maybe even I should paint it blue instead?! I agonized. So many paint samples came and went through our house while DIY'd our bathroom in 2021.
I landed on this bold, rich green with slight blue undertones that I'm still so in love with. It's called Backwoods by Benjamin Moore. I choose a brighter white for the upper walls since we get so much natural light from the skylight. I thought a warmer white like White Dove would cast too yellow in here. Simply White by Benjamin Moore did the trick–it's a crisp, pure white with a colder tone to it.
This is the same color we chose for the shiplap ceiling too.
We're planning to eventually replace our vanity with a wood one, but for now we did a budget-friendly flip and painted the existing cabinets. I chose Edgecomb Gray by Benjamin Moore again so it wouldn't draw too much attention to itself, but would also contrast slightly with the white countertop.
Primary Bedroom Paint Color
Hall Bath
When we started talking about remodeling our hall bathroom, our girls begged us for something pink. It didn't take much convincing to win me over. I love pinks, and it coordinates in our color palette really well.
This pink is called Calamine by Farrow & Ball. It feels sophisticated and light without feeling like a kid color. The gold accents from our faucet, mirror, and art pair so well with it. It also helps the white of the tub and tile stand out too.
We flipped this room in under 4 weeks and did the whole thing ourselves. This paint color was perfect to go with everything else in the room. Especially the patterned blue floor tile. You can see the whole finished room here.
Kids' & Guest Hall Bathroom Paint Color
My Favorite Paint Brand & How To Color Match
I tested and tried different brands of paint over the years in this house and have become a true fan of Behr. This brand gives really good coverage with 1-2 coats every time, and I'm finding that it holds up better over time. Our two smaller bedrooms have Valspar brand paint, and I've noticed that it scuffs and rubs off much easier.
I always go to Home Depot and get my paint color matched. I write down exactly the name of the color and brand, and they can usually find it in their paint color system. We spend a little extra to get higher quality paint–I've noticed it makes a big difference! The Behr Marquee is my go-to.
I've also had success with the Behr Urethane Alkyd paint for our trim and doors. I've heard good things about the Benjamin Moore Advanced line for painting cabinets and have made a note to try this brand next!
Our Small Home Paint Color List
Having a coordinating color palette has been key to creating a home that feels cohesive, even with lots of color. I've now officially painted every wall in our house so I'll be taking a break from paint… for now.
When I went back and counted how many paint colors we've used in our home so far I was shocked–18 different colors! I've loved almost all of them and would use them again.
(Stay away from that Marshmallow color though, right?)
Here is the mega-list of paint colors in our 1349qft home!