Let's shop small this holiday season! We're highlighting a group of small businesses to consider for holiday gifts this year. These businesses are creating amazing, thoughtful products that are perfect for a loved one. All of these small business gift ideas were nominated from our HillHomeLove community!
Thank you for your small business gift ideas nominations! I hope this encourages you to consider a small business as you shop for gifts this year.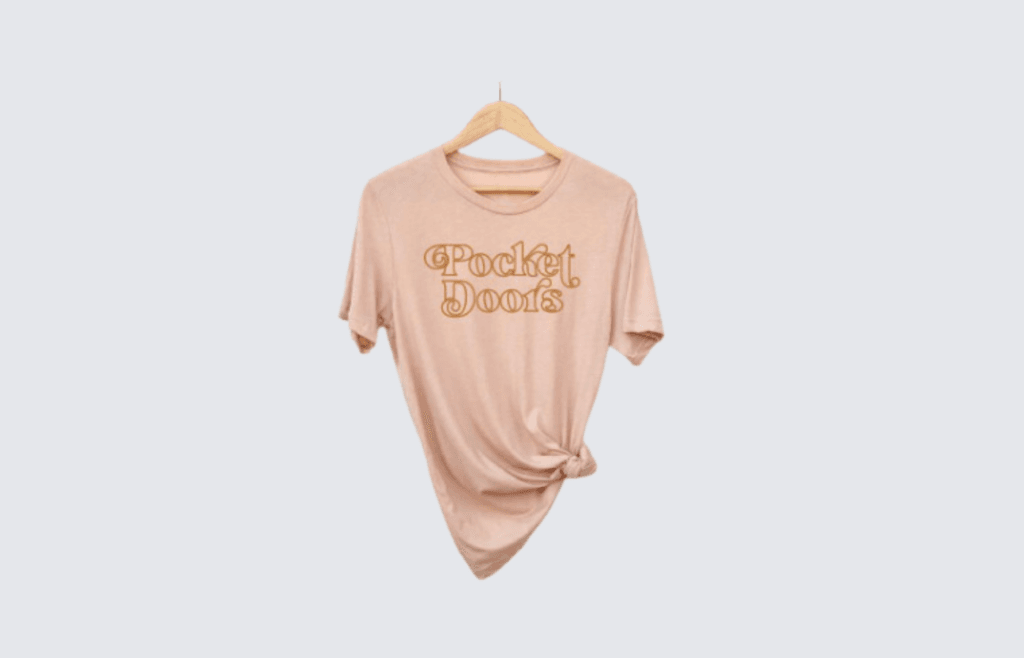 One of my favorite instagram accounts, Cheap Old Houses, has a selection of old home-related products that will make you smile. If you've ever lived in or loved an old home, you'll love their small shop. Like this Pocket Doors tee – one of the most charming, sometimes hidden, details of an old home. They carry stickers, keychains, and pins related to loving your old home. Plus, they just published a book!
2. Custom Home Portraits from 1031Gallery
Some of our first friends in Texas were Andrea and Taylor. They create these incredible custom home portraits! Capture a sweet memory of a favorite home with a personalized, handmade home portrait.
Order a Custom Home Portrait here!
Our incredibly talented friend Josh makes these Folk Art birdhouses from hand carved cedar! The level of detail he adds is just wild. This would make such a unique gift for someone in your family!
Order a Folk Art Birdhouse here!
One of the most thoughtful gifts you can give is personalized jewelry. Customize a bracelet, ring, or necklace with an important date, initials, or a name. Carry your memories with you wherever you go.
Order personalized jewelry here!
Edison Coffee Co was one of our go-to coffee shops in Flower Mound, TX when we lived close by. At the start of each month, I'd grab a bag of whole bean coffee and one of their all natural soy, hand poured candles. They are next-level! Especially their holiday scents, like Christmas Vacation or Apples and Spice. Top off this gift with a coffee bean subscription too.
6. Dime Handmade Shop Feature: Handmade, Small Batch, and Independently Designed Goods
Curated Home goods, Paper, Crafts, and More. This is one of my favorite shops in Denton, TX! They curate so many unique items – each one is made by creative minds all over the country. Like this knot pillow, or flower press kit. They stock cards like this one, stickers, and iron on patches like this cowgirl boot or this Howdy Howdy Howdy curvy patch! Their display of hand dipped candles alone was enough to inspire me whenever I shopped their Denton storefront location. They also sell art prints and mugs you can't find elsewhere. So many small business gift ideas to choose from.
Shop more handmade, small batch, independently designed goods here!
Luke's photos of Colorado mountain sunrises might be the sole reason we moved to Northern Colorado in the first place. He just launched a new print shop, and his photos would be a perfect gift for someone who loves the outdoors.
Tea towels are an easy accent in your kitchen, and these waffle printed tea towels are just perfect. If you're looking for a small business alternative to Geometry kitchen towels, look no further. I love the charming prints and antique look of these.
Order a waffle tea towel here!
Somehow Liz makes rugs look yummy. Like, eat with a fork yummy. I don't know how that's possible, but I can't talk enough about her vintage rug shop. While we have yet to order one for ourselves, I am obsessed with them! These vintage rugs are an investment into your home, with high quality materials that will last for years to come. Get your loved one a gift card, rug, or one of their "repurposed from rugs" items like stockings, rug remnants, or pillows.
Shop for a vintage rug here! Get 10% off with code MEGAN02190.
10. Week Ahead Notepad Planner from Kat French Design
Kat is a creative force, and I might be bias, but her paper goods are worth shouting about. She creates unique cards, notebooks, and positively fun paper goods for home. When she launched this Week Ahead Planner Pad this year, I immediately bookmarked it to add to this guide. I need that weekly reminder to water my plants! And this open planning format is perfect to stay on track with the important tasks.
Order a weekly planner pad here!
Okay, these are freaking cute and extra. If you have a pup you love and want to give them a fun surprise, check out this custom dog bakery an Instagram friend recommended! They even offer cakes to share with their little pup friends.
12. Midwest Watercolor Prints from Lil&E
With a tagline like "romanticize life's details," you can't go wrong. This shop's Midwest Watercolor Collection was recommended to me! I'm from the Midwest and I remember those sunsets over the cornfields well. These prints totally capture that beauty. This shop has other collections for holidays, nursery decor, florals, and even custom works.
Order a watercolor print here!
13. Family Portrait Session in North Texas with Jen Beasley Photography
My friend Jen is the REAL DEAL! She offers fun and stress-free photography for families that want to capture authentic moments. She means it when she says she'll tell you exactly how to pose, and she's pure magic at creating authentic moments and capturing them through a lens.
Jen snapped photos for us before we moved to Colorado, at one of our favorite coffee shops. She totally captured our family in our season of life and I'm so in love with the photos she took. Jen is an amazing person, friend, and photographer, and I cannot recommend her enough! If you live in the Frisco, TX area, please check her out! Hint: Turn your photos into magnets for Grandma or Grandpa to share in the memories too.
Book a photo session here, or give a session as a gift!
14. A Pay Period Budget Template & Mini Course from DebtFree Mom
If you're hoping to remodel a space in your home in 2024, replace furniture in your house, or maybe even move into your forever home, you need to consider your finances.
Carly's Pay Period Budget Template and Mini Course will help you get a clear picture of all your current finances. Track your spending and create goals with your money. Build a plan for your money so you can splurge on that marble countertop for your kitchen remodel.
Order a Budget Template & Mini Course here! Get 20% off with code MEGAN.
15. Mini E-Design Package with HillHomeLove
Give the gift of confidence in your home. There's no better time than at the start of a new year to give yourself, a partner, a relative, or a friend the gift of a beautiful home.
Book a Mini E-Design Package and receive both a Home Coaching Sessions and a Custom Mood Board! These services are meant for each other – like peanut butter and marshmallow fluff. (Trust me, try it.)
Book your Mini E-Design Package and receive…
A 45 Minute Video Consultation for:

Help with any specific issues you're having in your home.
Design guidance and direction on paint colors, light fixtures, furniture arrangement, hardware finishes, and decor.
DIY project troubleshooting.

1 Custom 2D Mood Board Image with:

6-8 Elements (Examples: Rug, Paint Color, Furniture, Curtains, Pillows, Etc.)
Your choice of style
Your choice of colors
Shoppable links to all elements
Delivered as a PDF file along with notes from our consultation
Book a Mini E-Design Package Here!
I hope these small business gift ideas are helpful as you shop for loved ones this year. Did I miss any small business gift ideas?? Comment below and spread the love!
For more gift ideas, check out last year's HillHomeLove gift guide too!
See also…